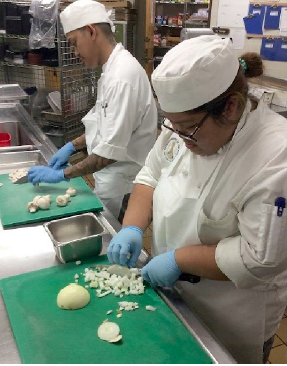 KCC is launching "GoCook! Hawaii", a FREE fast track food service job training program for anyone 16 years and older, who is unemployed or underemployed, and looking for immediate employment in the food industry. Veterans will also receive priority. The training duration is 12 weeks, 5 days per week, 8 hours per day. All training will be conducted in a community college cafeteria. Lunch will be provided for the trainees as well. The trainee will earn the equivalency of 4 college credits upon completion should they decide to return and enroll in a culinary program at any community colleges in the UH system in the future. Job referrals will be provided at the end of the training. This program is funded by a grant from the US Department of Labor and so is free for a limited time only.
There will be an information session on September 18 for applicants at KCC. The first cohort will start training on October 1. There will be four training cycles through September 2016.
Click here to download brochure.